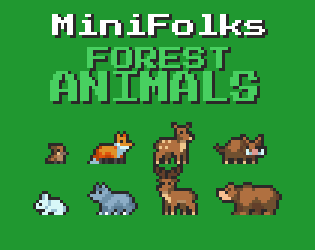 MiniFolks - Forest animals
Hello again! I want to announce to you my new pack, which I just released on my Boosty - MiniFolks - Forest Protectors.
Pack conteins 10 characters on canvas 32x32 and 1 on 40x40. With and without outline.
PREVIEWS:






if you are interested or wanna support me - check out my Boosty. All new paid content will temporarily go there.
***
Also, special thanks for the support to these heroes:
Foxel "DatFoxy" Foxy
Jugraj Singh
Chris "HyveMynd" Stone-Bush
Elijah Cohen
Steven

***
Get MiniFolks - Forest animals
Comments
Log in with itch.io to leave a comment.
Hi! Is it possible to have these packs on your itch.io? We cant see many animations on your boosty page.
I have plans to gradually release works from boosty on itch. But I don't understand what you mean when you say that you don't see many animations on boosty.
I prefer the format you are using in itch :)
I do not understand what you're saying. I sell packs on Boosty the same way I do on itch. You can only get to my boosty if you follow me on itch, where I post all animation previews. In general, this whole situation with boosty began with the fact that I can no longer withdraw money from itch and I don't want people to pay money to nowhere. I know it sounds more like my problem, but still.
Why can't you withdraw money anymore?
I don't have a problem with using another platform, but I think you'll have better discoverability if you release demo versions for each pack that's on Boosty, so at least there's a reference to the full asset pack - then people will know it exists.